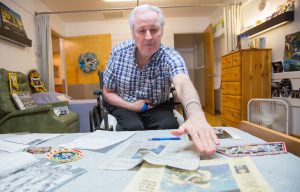 EL CAMPO – A Texas astronaut is being remembered through the eyes of his son.
Edward White III, an El Campo resident and son of Lt. Col. Edward H. White II, will attend events that will honor his father on the week marking the 50th anniversary of the Apollo 1 tragedy.
"A Day of Remembrance" will be hosted by NASA and the Astronaut Memorial Foundation that will pay tribute to the crew of Apollo 1, said Andrea Farmer, senior public relations manager of the Kennedy Space Center Visitor Complex.
White was one of the astronauts who died in Apollo 1 and is the astronaut who performed the first U.S. spacewalk for 21 minutes during the four-day Gemini program in 1965.
White said James McDivitt, who was also part of the Gemini 4 mission, knew his father when they both attended the University of Michigan, years before they became astronauts.
He said fellow astronauts would refer to the two as the "rookies both flying in space."
And when the elder White performed the first extravehicular activity – when he went outside the spacecraft – he said he "felt like a million bucks," his son recalled.
When they returned to Earth, White remembers, his dad said, "I felt red, white and blue all over."
White recalls his family being invited to the White House by President Lyndon B. Johnson to honor his father and his colleagues for their achievements.
White said that LBJ had the idea to take his parents to France to attend the Paris Air and Space Show at the last minute. He said the astronauts' wives had to borrow dresses from the first lady and her daughters.
"We woke up that morning, and they had told us they had gone off to Paris, they left us there, we were just kids," he laughed as he remembered the day. "An astronaut had to take us back home after that."
White said that before he became an astronaut, his father had tried to become a runner in the 1952 Olympics in Helsinki, Finland.
After he graduated from the U.S. Military Academy at West Point, he traveled to Los Angeles to try out, but lost to some competitors he had beaten in the past.
"He later said that that day would have changed his life forever," White said. "He was happy he had become an astronaut instead of becoming something else."
White has a collection of his father's photos and has given names to each of them; some of his favorites are "The Tumbling Astronaut" and the "Million Dollar View."
White said he would best describe his father as a Renaissance man, a person with many talents and areas of knowledge.
"Dad would always say strive hard and go after your goals," he said.
Edward White II was inducted into the U.S. Astronaut Hall of Fame in 1993, an honor that was presented by Neil Armstrong. White died Jan. 27, 1967, when the Apollo 1 spacecraft caught fire during a test at Cape Canaveral, Fla.
"He was kind of the perfect dad," his son said. "He was the kind of person who could do anything if he went after it, and he would make you feel like that, too."