CMG Worldwide Welcomes You to the Official Website of Alexander Cartwright 
Whether you're eating a hot dog, singing "Take Me Out to the Ball Game," or stepping up to the plate yourself. The next time you're out at the ballpark enjoying America's favorite pastime, you can thank Alexander Cartwright. He is the man widely regarded as being most responsible for formulating the modern rules of baseball.
Cartwright was born Alexander Joy Cartwright Jr. on April 17, 1820 in New York City. While working as a bank clerk and volunteer firefighter in New York, Cartwright started playing a popular game known as "town ball" or "base ball." At the time, it was simply a bat and ball played by locals with an informal set of rules that got passed along by word of mouth.
Cartwright's intense passion for the game led him to become a founding member of the Knickerbocker Baseball Club in 1845. Under his direction, the club drafted and adopted the first formalized set of rules for the game. These rules became the foundation for the modern game of baseball. Among the rules established by Cartwright were the way teams record an out, the diamond shaped layout of the field, and the designation of fair and foul areas.
The club played its first official game against the New York Nine at Elysian Fields on October 6, 1845. Cartwright served as umpire in a game that saw the Knickerbockers lose 24-1. This was just the beginning of many games that would be played between the two teams, and the beginning of a pastime that would soon begin to sweep the nation.
Cartwright remained in New York until 1849, when he left for the sunny coast of California to stake his claim at fortune during the Gold Rush. His journey to California helped spread the game of baseball all throughout America. He continued to promote the game he created, teaching it to people in the towns he passed along the way.
Upon arriving in San Francisco, Cartwright had very little luck finding his fortune, and soon left for the island of Hawaii. During his time in Hawaii, Cartwright continued to teach the game he loved so dearly, but his influence went well beyond baseball. Cartwright became actively involved in political and social matters as well by serving as chief of the fire department and helping establish the Honolulu Library and Reading Room. He also served as a trusted advisor to the Royal Family of Hawaii.
Cartwright was married to Eliza Van Wie, with whom he had five children: DeWitt, Mary, Kathleen, Bruce, and Alexander III. He continued to live in Hawaii until his death on July 12, 1892 at the age of 72. Today, he rests in Nuuanu Valley Cemetery in Honolulu, where he has been visited by baseball greats such as Babe Ruth.
While Cartwright's exact role in the history of baseball has been debated, it is clear he was one of the most important figures in the development of modern baseball, so much so that Congress has officially recognized him as the inventor of the modern game. In 1938, Cartwright was inducted into the National Baseball Hall of Fame in Cooperstown, NY as a pioneer of the game. His enshrinement plaque reads "Father of the Modern Game of Baseball."
In 1938 Alexander Cartwright received the honor of being inducted into the National Baseball Hall of Fame for his contributions to the nationally played sport.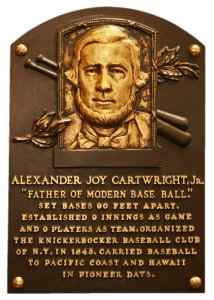 In 1947 Robert W. Henderson published a book titled Bat, Ball, and Bishop, which gave evidence of Cartwright's contributions. Congress cited this book when naming Cartwright as the true inventor of the game.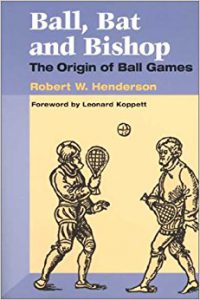 If you are interesting in using Alexander Cartwright for commercial purposes, CMG can offer clearance and consulting services to help you navigate this process. As experts in our field, we are confident in the services we provide – so confident that our clearances are accompanied by a full indemnification. Reach out to us today if you'd like to learn more about how we can help.
For a more in-depth description of our consulting and clearance services, please visit our website here. On our website, you can also learn more about additional CMG services, including our work as the licensing representative for hundreds of legends, and our intellectual property valuation services.